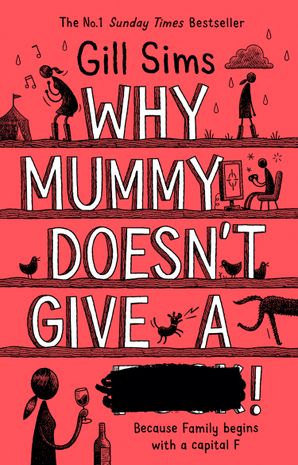 When I was asked if I wanted to review Gill Sims new book Why Mummy Doesn't Give A **** I simply could not refuse. Gill is one of my favourite authors who gives a real-life experience in what it is really like to raise children.
We return back to Ellen's life with her husband and two children Jane and Peter and the next instalment of their life. Life has significantly changed for everyone and the dream Ellen had seemed to be fading into the distance. Ellen now has bigger issues to deal with and that is her children becoming teenagers and having to deal with their issues and Ellen trying to work out what on earth is going on with her life. She is used as a cook and driver for her children and basically as a maid. This is my life in the future. My two children are only two and three but at present eat me out of house and home – so I am dreading the teenage years and Gills writing certainly gave me a glimpse into my life into the future.
"In those dark days when they were babies and toddlers, I never thought they'd grow up. I thought they'd be little forever, and God knows, some of those long, long days certainly felt like forever. But all of a sudden they went and grew up when I was not looking."
What I most adore about Gill's books is the honesty, life is hard and does not sugar coat the issues that we all go through whereas others paint their lives as being perfect – guess what they are probably not. Ellen is such a relatable, likeable character who I just want to befriend and have a few gin and tonics with. I could relate to the loneliness and the feeling that you are on your own and you just need to get on with on your own as you cannot rely on anyone else.
Ellen is just an amazing woman, mother and friend. She is trying to gasp her own identity, not just being a mother, you can see that she is becoming Ellen a real-life person. I think I have more steps to go before I get my identity back, but hope to get there soon.
Jane and Peter well what can I say about their characters, they are teenagers, so every day they change one minute your embarrassing, they hate you, love you or just need you to drive them somewhere or feed them. You go through a wide range of emotions with both children, but what I felt about them was there love for Ellen it was at times very discreet – but, it was there.
Gill continues with her series of Why Mummy Doesn't…. don't worry you do not have to have read her previous books, but my advice is to read them because they are belly laughing funny and are the early years of becoming a parent and you follow Ellen's life.
I would recommend all of Gill Sims books.
Family begins with a capital eff
I'm wondering how many more f*cking 'phases' I have to endure before my children become civilized and functioning members of society? It seems like people have been telling me 'it's just a phase!' for the last fifteen bloody years. Not sleeping through the night is 'just a phase'. Potty training and the associated accidents 'is just a phase'. The tantrums of the terrible twos are 'just a phase'. The picky eating, the back chat, the obsessions. The toddler refusals to nap, the teenage inability to leave their beds before 1pm without a rocket being put up their arse. The endless singing of Frozen songs, the dabbing, the weeks when apparently making them wear pants was akin to child torture. All 'just phases!'. When do the 'phases' end though? WHEN?
Mummy dreams of a quirky rural cottage with roses around the door and chatty chickens in the garden. Life, as ever is not going quite as she planned. Paxo, Oxo and Bistro turn out to be highly rambunctious, rather than merely chatty, and the roses have jaggy thorns. Her precious moppets are now giant teenagers, and instead of wittering at her about who would win in a fight – a dragon badger or a ninja horse – they are Snapchatting the night away, stropping around the tiny cottage and communicating mainly in grunts – except when they are demanding Ellen provides taxi services in the small hours. And there is never, but never, any milk in the house. At least the one thing they can all agree on is that rescued Barry the Wolfdog may indeed be The Ugliest Dog in the World, but he is also the loveliest.
Why Mummy Doesn't Give a **** is published by Harper Collins
Other books available in the series